About Center for Whole Communities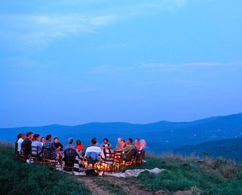 Founded in 2003, Center for Whole Communities was created from within the conservation movement to initiate and participate in a respectful, intentional and thorough effort at re-invention. Our mission is to work with leaders from across the land movement to help forge a more powerful, cohesive, and inclusive vision for land restoration and conservation in America. Our definition of the land movement includes those working for land and ecological restoration, food security, community revitalization, active living, smart growth, the faith community, social and environmental justice, public health and land conservation. Whole Measures, and its integrated training programs, is one of our primary programs to help these groups collaborate, innovate, and be more responsive to the diversity of people and new politics that constitute America's culture. Center for Whole Communities is a bridge between diverse organizations and the safe harbor where these groups can creatively solve complex problems and find more effective strategies for leadership.
To learn more about our work and other programs, please visit www.wholecommunities.org.