Value-Based Practices for Whole Communities
There are many ways to create whole communities. With Whole Measures, we aim to describe and assess ten sets of practices that reflect a vision for whole communities seen through the land lens, grounded in our values identified and relevant to those groups working with, for and on the land. Within each domain are a set of practices for the conservation, restoration and stewardship of land that will nurture the larger set of healthy relationships that make up a whole community.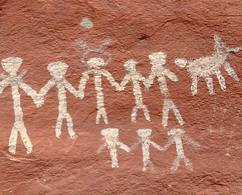 Justice and Fairness
Providing equal access to land
Acknowledging injustice
Engaging the whole community
Sharing power
Relationships Between People and Land
Increasing direct access to land
Providing learning and inspiration
Respecting long-term relationships to land
Protecting the emotional and spiritual value of land
Community-Building
Creating public space for community engagement
Uniting the community
Empowering the community
Building new grassroots networks
Healthy Ecosystems
Conserving or restoring healthy wildlife habitats and corridors
Conserving or restoring water quality
Promoting a land ethic
Protecting or enhancing  biodiversity on the land.
Healthy Habitat for People
Promoting local, healthy food
Offering safe opportunities for recreation
Preventing or remediating pollution
Protecting safe drinking water
Stewardship
Providing for long-term commitment
Reflecting community values
Helping community care about larger landscape systems
Depending upon local community
Responding to climate change
Economic Vitality
Ensuring long-term economic vitality
Supporting active relationships between conservation and working lands
Promoting local, land-based products
Promoting sustainable land-based livelihoods
Community Resilience
Balancing conservation with community housing goals
Balancing conservation with transportation needs
Maintaining infrastructure necessary for accomplishing social goals.
 Supporting "smart growth" principles and practices
Promoting resilience to hurricane, flood, drought and wildfire damage.
Power of Story
Taking time to listen and learn
Providing the forum for community members to tell their stories
Respecting the stories and lessons of the past
Reconciling social and cultural ties between people and the land
Being in Service
Engaging with existing community-based organizations
Sharing decision-making authority with the community
Building cultural competency
Building trust and authentic relationships.
Addressing climate change